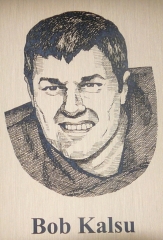 James Robert Kalsu was born on April 13, 1945 in Oklahoma City. He was a star football player at Del City High School and was recruited to the Sooners in 1964. During his time at Oklahoma, Bob was a leader on both the football field and the ROTC drill field where he served as a brigade commander. He was an All American offensive tackle in 1967 and helped lead the Sooners to the Big Eight Conference Title during that season. After the Sooners' Orange Bowl victory that season, Bob married his sweetheart Jan Darrow. More than just a great football player, Bob was also a friend and a loving husband. Kalsu is remembered as one of the most generous and likeable members of the team, someone you could always count on. An award is still given in his honor to the Sooner who displays the best character and leadership ability each year. After OU, Bob was drafted in the 8th round to the Buffalo Bills in 1968 where he was honored as rookie of the year during that season. During that same year, his wife Jan gave birth to his daughter, Jill. Following the 1968 season, Bob decided to fulfill his ROTC obligation by accepting his commission and deploying to Vietnam. As a First Lieutenant in Vietnam, Bob was posted at Firebase Ripcord in Ashau Valley as part of Charlie Battery, 2nd Battalion, 11th Artillery, 101st Airborne Division. Bob was killed in action on July 21, 1970 during a mortar attack. His second child, Bob Jr. was born on the same day his wife Jan learned of his tragic death. Bob Kalsu is a true American hero; his generation's Pat Tillman. He valued freedom and honor more than fame and fortune and never elevated himself above those he served with just because he was a great athlete. Bob Kalsu embodies all that an American soldier should strive to be and exemplified all of the Army values; especially selfless service.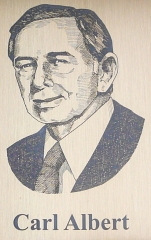 Carl Albert was a native of McAlester, Oklahoma. He entered the University of Oklahoma in 1927 where he majored in political science and participated in Army ROTC as all men were required to do at the time. Albert graduated from OU in 1931 and received a Rhodes scholarship to study at Oxford University. He returned to Oklahoma in 1934 and opened a law practice in Oklahoma City in 1935. Albert served in the United States Army during World War II with the 3rd Armored Division and as a JAG officer. He left the Army in 1946 at the rank of Lieutenant Colonel. From 1947 to 1977 he served as the U.S. Representative for the 3rd district of Oklahoma. In 1971, he became the 46th Speaker of the House.

Lieutenant Colonel (Retired) Charles K. "Banzai" Brantley attended the University of Oklahoma from 1969 to 1973 on a four year Army ROTC scholarship. Brantley was a Distinguished Military Graduate in 1973 and earned a degree in Asian Studies. He accepted a regular army commission into the Infantry Branch in 1973. During his long and distinguished career, Brantley earned a plethora of distinctions to include a Ranger Tab, a Special Forces Tab, Air Assault Badge, Master Parachutist Badge, Expert Infantry Badge, Combat Diver Badge, Master Freefall Badge, and 15 sets of foreign jump wings; His awards include 2 Legions of Merit, Defense Meritorious Service Medal, and the Soldiers Medal for Bravery which he received for staying on board a stalled aircraft to attend to an injured soldier after instructing his team to bail out during a demonstration jump with the Golden Knights, the U.S. Army's Sport Parachute Team. Brantley is the former commander of the Golden Knights and a prominent member of the Golden Knights Alumni Association. He retired as a Lieutenant Colonel in 1999. After retiring, Brantley developed a passion for helping underprivileged children and has since distinguished himself as a child protective services officer in Tampa, Florida. He continues to be active in his community as a volunteer for Girl Scouts of America and is a Master Mason.

The Honorable James R. Jones attended the University of Oklahoma from 1957-61 where he earned a Bachelor's Degree in Arts and Sciences at which time he was also commissioned as a second lieutenant in the Military Intelligence branch and served as a counter-intelligence officer. In 1964 he was awarded a law degree from Georgetown Law Center after which he served 2 years active duty and 7 years in the Army Reserve. After his active military duty he became legislative assistant to U. S. Representative Ed Edmondson. At the age of 28 he was selected by President Lyndon B. Johnson to serve as "appointments secretary" a position now known as Chief of Staff. He remains the youngest person in history to hold this position. In 1972 he was elected to the U.S. House of Representatives from Oklahoma where he served until 1987. He served as ranking member of the House Ways and Means Committee and Chairman of the House Budget Committee. In 1989 he was appointed Chairman and CEO of the American Stock Exchange where he served until 1993 at which time President Clinton appointed him as U.S. Ambassador to Mexico. During his tenure as Ambassador he was awarded the Aztec Eagle Award, the highest honor the Mexican government can bestow upon a non-Mexican. He is a member of the Oklahoma Hall of Fame and has honorary Doctor of Law degrees from Lafayette College and Syracuse University, and was awarded the Prime Minister's International Trade Award from the Prime Minister of Japan. Mr. Jones is currently a partner in the Washington DC law firm of Manatt, Phelps & Phillips, and LLC with a focus in international trade, investment and commerce, business and government relations and financial services. He is a member of the District of Columbia Bar Association, Oklahoma Bar Association and the American Bar Association. Earlier this year he was recognized as one of the "Best Lawyers" in America 2008. He is an active speaker to various national and international organizations and serves on numerous corporate boards of directors.